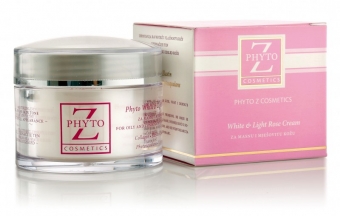 111
Phyto white & light cream creates balance of skin moisture, reduces pigmentation and slows down aging and wrinkles. It contains collagen, elastin, vitamins A and E, as well as phytosclerotic and cyclic peptides. Does not contain any oils, the skin looks shiny and soft.
50 ml
Price:
42€
This cream has a threefold effect:
1. Maintains moisture on the skin
2. "Anti-Aging" effect
3. "Whitening" effect - maintains bright skin tones, increases gloss, reduces melanin production and relieves skin hyperpigmentation.
Phytotherapy is a natural ingredient obtained from olive oil. It is lightweight texture and penetrates well into the skin without leaving a massive trace, is very similar to natural skin lipids and returns protective properties to the hydrolipidic layer. Prevents loss of moisture and excels in other active ingredients in deeper layers of skin. It contains flavonoids and antioxidants, actively moisturizes and nourishes the skin and protects it against the negative effects of external factors. The skin gives a soft and silky feel.
The cyclic peptide stimulates the skin cells to produce collagen and elastin that make up the supporting structure of the skin. It participates in anti-inflammatory processes, soothes the skin and increases the stability of the cells themselves that become more resistant to drying and decay.
Collagen is an extremely important protein that is an integral part of the connective tissue. The skin provides elasticity and firmness. As we age, the production of collagen in our cells decreases, the skin becomes more relaxed and the result is the formation of wrinkles. Collagen products penetrate deep into the skin where the collagen continues to penetrate into the wrinkles, smooth them, restore skin elasticity and strengthen its structure.
Elastin is a fibrous protein that, along with collagen, improves the tone of the skin. It makes skin peppy and full. Loss of elastin with age leads to the relaxation of the skin, it becomes dull and wrinkles. Phyto anti-wrinkle cream replaces part of lost elastin and further strengthens the skin.
Vitamin E is a potent antioxidant, it is extremely effective in free radicals resulting from oxidative stress or exposure to UV radiation. It is the free radicals that are one of the major causes of skin aging, making vitamin E an inevitable ingredient in anti-age facial care routine. Neutralizes the effect of UV radiation on skin proteins and lipids, stimulates cell regeneration, reduces scars and contributes to reducing redness of the skin.
Vitamin A is a natural UV-filter - it protects the skin from the UV-rays we are exposed to every day. It acts antioxidantly and has a distinct anti-age učinal. It contributes to the maintenance of smoothness, smoothness and softness of the skin and reduces the likelihood of acne.
You can buy this product in more than 500 pharmacies!