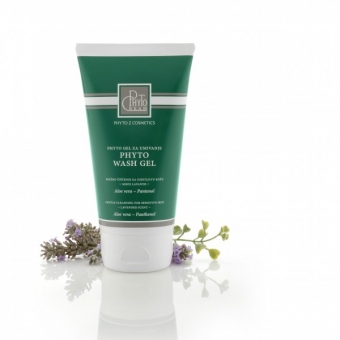 111
Phyto wash gel is a gentle facial cleansing gel, light texture, no oils or irritants.
Spread gently gel on to your face and rinse with lukewarm water.
150 ml
Price:
8€
It contains the ultimate ingredients for moisturizing skin regeneration - aloe vera and panthenol.
Aloe Vera the old Egyptians called the "plant of immortality," because it rapidly revives dry, irritated and damaged skin. With intense strength, moisturizes the skin and stimulates collagen production, thus slowing down aging. It relieves inflammation and allergic reactions, is a very delicate and universal ingredient suitable for the care of all skin types and all ages.
Pantenol, provitamin B5, is involved in regenerative skin metabolism processes. It does not have any active action, but immediately in contact with the skin it passes into an active form of pantothenic acid. It hydrates, nourishes, heals wounds and works anti-inflammatory, improves skin elasticity and strengthens its protective layer. It also reduces skin redness, it is ideal in skin care after exposure to the sun.
The gentle smell of lavender turns the face cleaning into enjoyment and relaxation. The scent of lavender is soothing and refreshing so you can start and finish the day in the best possible way.
Facial cleansing is the real cornerstone for healthy, shiny and nourished skin. It has mild action and is ideal for sensitive skin. It is designed for daily use, in the morning as a first step in skin care, in the evening after removing waterproof and heavy makeup, and before taking the other steps in your skin care routine.
It leaves the skin clean and soft. It is prone to care for all skin types, and since it is extremely gentle, it is excellent for sensitive skin. Symptoms of sensitive facial skin may be: redness, rash, swelling, swelling and roughness. The skin is mostly dehydrated, chronicly moisturizes her. It can also be hyper-sensitive and prone to reactions when using different cosmetic preparations. That is why, if you have cutaneous skin, it is very important to choose mild products without irritation. Aloe Vera is designed to care for sensitive skin, it relieves redness and irritation on the skin, compensates for moisture and gently refreshes the skin.
You can buy this product in more than 500 pharmacies!