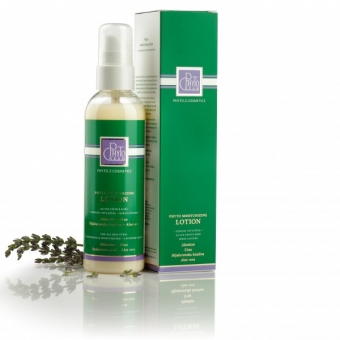 111
Phyto moisturizing skin is full of active ingredients that deeply hydrate the skin and prepare it for next skincare steps. Extremely light texture is ideal for hot summer days as well as makeup priming. Phyto moisturizing skin leaves the skin soft, refreshed and nourished.
200 ml
Price:
16€
Urea is a substance that binds water to itself and is the natural ingredient of human skin. Healthy skin contains up to 28 micrograms urea per square centimeter, and dry skin up to 50% less. Reduced amount of urea leads to weaker connecting of water molecules inside cells and skin becomes rough and tensed. Phyto moisturizing lotion contains urea as an ideal active ingredient for moisturizing and softening the skin and increasing its elasticity. Urea helps to eliminate dead skin cells, accelerates the cell renewal process, provides local anesthetic effect in inflammable skin and strenghtens natural skin barrier.
Phyto moisturizing lotion contains alantoin and hyaluronic acid, both ingredients retain moisture in the skin and prevent drying. Also, alantoin stimulates the growth of new cells in tissue and thus accelerates regeneration of the skin, which is why it is excellent for treating acne scars and even the first wrinkles.
Hyaluronic acid is also a natural component of the skin, an integral part of the connective tissue. It is key to elasticity, flexibility ideal for anti-age skin care routine.
Aloe Vera the old Egyptians called the "plant of immortality," because it rapidly revives dry, irritated and damaged skin. With intense strength, moisturizes the skin and stimulates collagen production, thus slowing down aging. It relieves inflammation and allergic reactions, is a very delicate and universal ingredient suitable for the care of all skin types and all ages.
The scent of lavender is relaxing and calming, it eliminates the feeling of tension and turns your skincare routine into a real aromatherapy experience.
Use Phyto moisturizing lotion after Phyto moisturizing skin as an optimal combination of deep hydration and facial nourishment, soothe the skin before applying Phyto Cream.
Ideal for all skin types. It restores moisture for dry skinand gently nourishes and soothes redness before applying nutrient creams. To oily skin it provides optimum moisture to prevent dehydration, refreshes, and all with a completely light texture without any oil additives.
You can buy this product in more than 500 pharmacies!