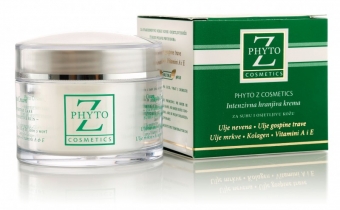 111
- Phyto Cream is intended for the care of dry and sensitive skin. It contains high-value cold pressed herbal oils with added herbal collagen as well as vitamins A and E. It provides an optimal combination of moisturizing and nutritious effects, a rich texture that leaves the skin soft, well-groomed and gives it a natural glow.
- 50 mL
Price:
35
€
Calendula oil, thanks to the flavonoids, carotenoids, saponins and polysaccharides, acts anti-inflammatory, helps heal damaged skin, softens and moisturizes the skin. It is suitable for everyday use of sensitive skin. It stimulates the regeneration of cells and has strong anti-inflammatory properties, so it is ideal for sun-damaged skin, skin that itches and works tense.
Carrots are rich in beta carotene, vitamins A and E, and provitamin A. Suitable for all skin types, especially for dry or mature skin. It is useful for dry skin caused by overheated areas and cold wind. In cosmetics, it is most commonly used for mature skin because it is considered to slow down the aging process. It helps in the healing of dry, cracked skin and skin hydration. It prevents skin irritation and redness, restores the tone and elasticity of the skin, and reduces wrinkles. It illuminates hyperpigmented spots (spikes) and prevents their formation.
Pot Marigold's oil oil has an anti-inflammatory and epithelial effect (stimulates healing), which is used to address many skin problems such as redness, irritation and itching. Used for care of inflamed, damaged and dry skin. Reduces wrinkle visibility, mildly antioxidant, reduces oxidative stress of cells caused by free radicals, helps to nourish dehydrated skin and makes the skin more beautiful and youthful.
Collagen is an extremely important protein that is an integral part of the connective tissue. The skin provides elasticity and firmness. As we age, the production of collagen in our cells decreases, the skin becomes more relaxed and the result is the formation of wrinkles. Collagen products penetrate deep into the skin where the collagen continues to penetrate into the wrinkles, smooth them, restore skin elasticity and strengthen its structure.
Vitamin E is a potent antioxidant, it is extremely effective in free radicals resulting from oxidative stress or exposure to UV radiation. It is the free radicals that are one of the major causes of skin aging, making vitamin E an inevitable ingredient in anti-age facial care routine. Neutralizes the effect of UV radiation on skin proteins and lipids, stimulates cell regeneration, reduces scars and contributes to reducing redness of the skin.
Vitamin A is a natural UV-filter - it protects the skin from the UV-rays we are exposed to every day. It acts antioxidantly and has a distinct anti-age učinal. It contributes to the maintenance of smoothness, smoothness and softness of the skin and reduces the likelihood of acne.
Phyto Cream is recommended for daily care of dry and sensitive skin.
Dry skin can not produce its own natural oils which, along with water, make an important layer of epidermis - a hydrolipidic layer. It is an emulsion of water and lipids that prevents loss of moisture from the deep layers of the skin, protects the skin from impurities and external influences. Without the necessary oil, the skin constantly loses moisture, without it becoming rough, prone to redness, and wrinkles are much more pronounced. The skin is tense and thin, it can shoot, there are visible stains on the skin. Dry skin has reduced protective function, becomes sensitive and can lead to biochemical reactions such as collagen loss.
For the treatment of dry skin it is most important to compensate for the lack of natural oils as well as the lack of moisture. This is achieved by moisturizing and nutrient creams that contain high quality oils and hydrating ingredients.
You can buy this product in more than 500 pharmacies!