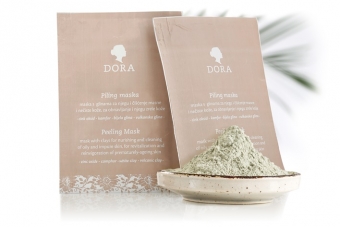 111
Dora Peeling Mask
mask with clays
for nurishing and clening of oily and impure skin
for revitalization and reinvigoration of prematurely-ageing skin
active substances: zinc oxide - camphor - white clay - volcanic clay
Zinc oxide and camphor improve blood circulation and expand the skin pores, which accelerates the excretion of metabolic products while clays adsorb (take in) impurities and dead epithelium. The mask is darker owing to its clay content. Better blood circulation leads to improved skin nutrition.
How it works:
Dora Peeling mask increases the blood flow (hyperaemia) and softens the horny layer of the skin, so it is recommended for skin that shows signs of ageing. Owing to better blood circulation, active substances can penetrate deeper into the skin, which is important in the treatment of skin in need of revitalization (recovery).
How to apply:
Apply the mask to the cleansed and dried face skin in an even 2-3-mm layer. Let it sit for 15-20 minutes. During this time, the clay in the mask binds water and the mask dries off. Then rub off the flaked, dry mask pieces, in the process of which the embedded inorganic particles remove the dead epidermis layer, exfoliating the skin. Additionally, you can rinse your face with warm water or a moist cotton wool. After the removal, the skin appears tighter and the tissue hyperaemia is increased, leaving the skin smooth and plump.
Rinse off the mask with water or herbal cleansing tonic (Dora cleansing tonic). If your skin is impure or prone to acne, apply Phyto anti-pimple cream after the removal.
6 ml
price:
2€
You can buy this product in more than 500 pharmacies!