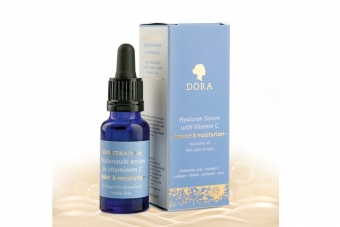 Dora hyaluronic C vitamin serum - for all skin types and ages
Due to its ability to bind water, hyaluron is very active in filling wrinkles and creating collagen. Vitamin C is a powerful antioxidant, helps with hyperpigmentation and discoloration problems, regulates collagen synthesis, etc.
However, one should also know that Vitamin C is very unstable in cosmetic preparations and is rapidly decomposing, which can ultimately damage our skin. Therefore, we must use it as a stabilized form. One of these forms is ASCORBIL PHOSPHATE, which is contained in our serum, which is inactive in itself, but by entering the skin tissue the phosphatases cleave the phosphate group and release vitamin C.
50 ml
Price: 300,00 kn
You can buy this product in more than 500 pharmacies!