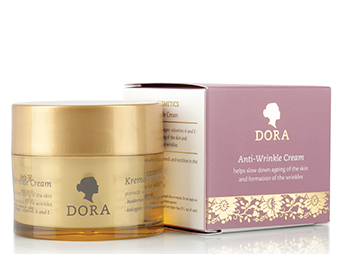 111
helps slow down ageing of the skin and formation of the wrinkles
with cold pressed vegetable oils
almond oil - peanut oil - collagen - vitamins A and E

paraben free, no mineral oils
50 ml
price:
21€
Vitamin A reduces wrinkles and roughness of the skin, leaving it smooth.
Collagen penetrates deep into the wrinkles, locking in the moisture that would otherwise evaporate from the skin and smoothing out the wrinkles.
Almond oil is rich in vitamins, minerals and essential fatty acids. With its skin moisturizing property, it slows down the ageing process, keeping skin soft and smooth. It ensures the elasticity of the skin and is frequently used not only to prevent cellulite and stretch marks in pregnancy, but wrinkles, as well. It penetrates the skin easily, leaving it soft and silky.
Peanut oil is a source of coenzyme Q10, which our body produces naturally, but this decreases with age. It has a high content of vitamin E and is suitable for all skin types.
You can buy this product in more than 500 pharmacies!