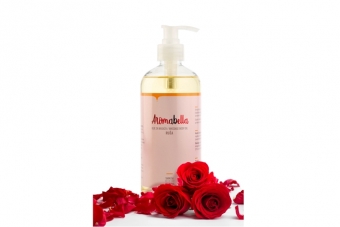 111
Aromabella Rose massage and body oil as a base contains a mixture of almond and sunflower oil in the ratio of 50:50. Sunflower oil is best for aroma-massages because it contains a quick-absorption property. Almond oil is extremely moisturizing for dry skin and these two oils make the perfect blend for a massage.
The scent of the rose is one of those scents you like or dislike, no middle ground. But the rose is an eternal classic that exudes refinement and femininity, and with its intoxicating scent evokes strong emotions. That's why he is considered a strong aphrodisiac - it arouses libido and enhances his love life. It raises energy levels, awakens positive thoughts, relaxes and brings a sense of happiness and comfort. In doing so, it increases self-confidence and mental strength and alleviates anxiety.
Aromabella Rose massage oil is ideal for couples massages. It is primarily intended for professional use in beauty salons and massage parlors, but also for home use for body care purposes.
Price: 51,99 kn
You can buy this product in more than 500 pharmacies!