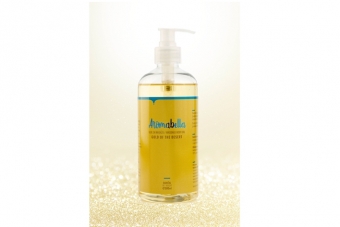 Aromabella Gold of the Dessert for Massage and Body Care contains 50:50 blend of almond and sunflower oil as a base. Sunflower oil is best for aroma-massages because it contains a quick-absorption property. Almond oil is extremely moisturizing for dry skin and these two oils make the perfect blend for a massage.
Aromabella Gold of the dessert, a favorite of beauty salons, will awaken your feminine side with its seductive scent. Sweet floral notes with a powdery-woody base will delight your fragrant receptors. In addition to having a full-bodied massage with this oil, Gold of the dessert is also ideal for home use. Applying it to even more moist or dry skin after a shower will help you smell all day long and you won't need extra perfumes! Awaken the lioness in you and say yes to new adventures!
Aromabella Gold of the dessert oil is primarily intended for professional use in beauty salons and massage parlors, but also for home use for body care purposes.
500 ml
Price: 54,99 kn
You can buy this product in more than 500 pharmacies!