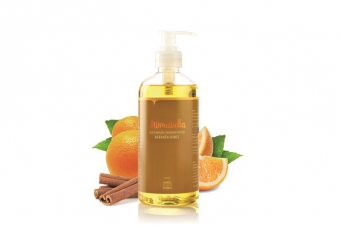 111
Aromabella orange-cinnamon massage oil uses almond and sunflower oil in a ratio of 50: 50 as a base. Almond oil is great for hydrating, especially for dry, chapped and irritated skin. Sunflower oil is best for aroma-massages because it has the ability to absorb quickly and facilitate the transfer of essential oils into the bloodstream. Essential oils, as active ingredients, more easily penetrate all tissues and organs and act where necessary.
The citrusy aroma of orange will wake you up and refresh you, and when combined with cinnamon essential oil, it brings the perfect combination for a fabulous winter atmosphere.
Cinnamon essential oil, as an active ingredient in Aromabella orange-cinnamon oil, stimulates circulation and is therefore a very good ally in the fight against cellulite. It has an antiseptic effect, helps to calm inflammatory processes on the skin, and relieves rheumatism and arthritis. It also boosts mental activity and concentration and helps with mental fatigue. It is very suitable for relaxing massages that relieve stress.
Aromabella orange-cinnamon oil is primarily intended for professional use in beauty salons and massage parlors, but also for home use for body care purposes.
500 ml
Price: 51,99 kn
You can buy this product in more than 500 pharmacies!